On August 15th, 2013 I was fly fishing for trout, when a submarine hit my Angel Hair streamer.
I was using my Scott S4 6-weight with 3X tippet and happened to land this 1,10m and 10.0kg Northern Pike.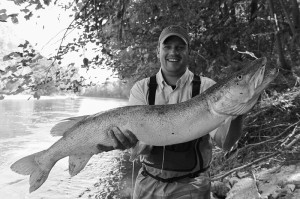 I had to fight the fish for more than 20 minutes and during the fight I had to jump into the Isar near Munich in order to get the Pike out of a snag it swam into. Luckily I could land it with my BogaGrip. As it happens with all big fish, you don't have a camera with you. So I had to call a friend to take that picture. Sadly the then dead fish lost its color, so I turned the picture B/W. Under normal circumstances I would have returned that fish, but under Bavarian fisheries law I have to kill any pike I catch in a catchment with self-sustaining trout population.